Criminal Lawyer Long Branch, NJ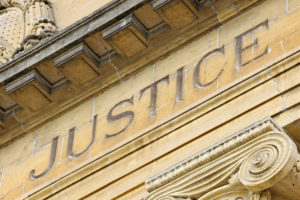 For over 20 years, Rispoli & Borneo, P.C.'s Criminal Lawyers in Long Branch, NJ have tenaciously defended clients, and provided them with quality guidance throughout New Jersey's municipal courts. When you choose a criminal lawyer at Rispoli & Borneo, P.C., you know exactly who will handle your case. We work closely with our clients and learn the inner workings of each case, whether you are faced with a minor infraction or a major penalty. Our attorneys will provide you with the strongest possible defense and support throughout your case. Our experienced Long Branch, NJ criminal attorneys possess the knowledge to obtain the best possible plea for you, or skillfully defend you through a trial.
The Municipal Courts handle both traffic violations and criminal matters.
Traffic Violations:
The experienced criminal law attorneys at Rispoli & Borneo, P.C. are well-versed in handling the wide variety of traffic violations including speeding, careless driving, tailgating, driving while suspended, failure to maintain insurance, leaving the scene of an accident and driving under the influence. Our attorneys understand the desire to avoid a plea deal that involves points and are experienced in how to best negotiate a "no point" plea. If a traffic violation cannot be resolved by way of an appropriate plea, our experienced Long Branch criminal attorneys are zealous advocates in trial.
Criminal Matters:
The criminal matters handled in the New Jersey Municipal Courts include petty disorderly persons offenses, disorderly persons offenses, and fourth degree felonies. Our experienced criminal attorneys routinely represent clients charged with shoplifting, possession of marijuana, simple assault, and harassment.  Although these matters are handled at the Municipal Court level, and not in Superior Court, clients still face the threat of thousands of dollars in fines, up to 18 months in jail and a criminal record. Our criminal attorneys also counsel clients on the immigration consequences of a criminal conviction.
Domestic Violence Lawyer – Long Branch, NJ
Domestic Violence Matters:
Domestic Violence charges often involve court proceedings in both the local Municipal Court and Superior Court.  Local Municipal Courts handle the criminal aspect of the domestic violence proceedings, which typically include harassment, assault and/or terroristic threats.  The Superior Court Family Division handles the Final Restraining Order proceedings. In almost every domestic violence matter, the alleged victim seeks a Temporary Restraining Order.  In order for the restraining order to become final, the defendant must be afforded an opportunity to be heard before a Superior Court Judge. The experienced Long Branch criminal attorneys have years of experience representing clients in Final Restraining Order proceedings throughout the State of New Jersey.
The experienced Long Branch, New Jersey criminal lawyers at Rispoli & Borneo, P.C. have appeared in Municipal Courts from Teaneck to New Gretna.  Although we have experience and familiarity with the Municipal Courts throughout the state, we most often appear in Long Branch Municipal Court, Newark Municipal Court, Linden Municipal Court, Roselle Municipal Court, Roselle Park Municipal Court, Rahway Municipal Court, Union Municipal Court, Middletown Municipal Court, Tinton Falls Municipal Court, Eatontown Municipal Court, Hazlet Municipal Court, Perth Amboy Municipal Court, and South Amboy Municipal Court.
Get Help From a Long Branch Criminal Lawyer for Your DUI 
Operating a motor vehicle can be dangerous, especially when your inhibitions are lowered. This is a primary reason why it's essential for drivers to refrain from getting behind the wheel when under the influence of drugs or alcohol. Doing so can result in legal entanglements, it can also be dangerous not only for your own personal safety but for the safety of others you are sharing the road with. If you were operating a motor vehicle with a blood alcohol content (BAC) of .08% or higher, you could be charged, and ultimately convicted of a DUI. This can come with heavy consequences that include:
Jail Time

Legal Fees 

Heavy Fines

Probation

Loss of License

Other Consequences:

Difficulty Obtaining Employment

Loss of Employment

Permanent Mark on Your Record
If you have been charged with a DUI, you will want to retain a criminal lawyer in Long Branch, NJ as soon as possible so that they may begin protecting your legal rights. When acquiring a lawyer, you may consider whether a public defender provided by the state is in your best interest. This can seem like an attractive option when considering the cost. Although a private criminal lawyer may come at some financial expense to you, an experienced lawyer can provide you with every opportunity at the representation that you deserve. Here are some key differences between public defenders and private lawyers when facing a DUI charge. 
Public Defenders, Advantages and Disadvantages
In the event that you are unable to obtain a private lawyer, a public defender may be an option for you when facing a DUI charge. Although the idea of a "pro bono" attorney can seem like a win-win, in many cases, you may not find it very helpful. Here are some advantages and challenges to accessing a public defender that may be provided to you:
Advantages
Public defenders are often very familiar with local courts and how they function

If you are unable to afford a private criminal lawyer, having the benefit of a public defender may help represent you

Their knowledge of the local courtroom and the players involved may work to your advantage
Disadvantages
You do not get to choose your public defender based on their experience, one is assigned to you

Public defenders often carry heavy caseloads

Your case is not likely to receive the attention it needs

You are likely to have to participate in portions of legal proceedings without representation

They are more than likely to guide you into entering a plea rather than determining whether your case has the possibility of a dismissal

You may be required to go through a screening process to determine if you are eligible

A public defender usually only participates in the courtroom, meaning you will not have their legal representation during DMV administrative hearings held prior
Private Lawyers, Advantages and Disadvantages
If you are able to afford a private criminal lawyer, this is likely to be your best option when facing DUI charges. Facing this form of legal entanglement can be nerve wracking to say the least. This is especially true if you have never experienced any type of infraction. A Long Branch, NJ criminal lawyer is well-versed in this area of the law and frequently represents people who are facing such charges. Here are some advantages and challenges that you may want to consider when determining whether a private criminal lawyer is right for you:
Advantages
Many DUI lawyers have the resources necessary to help defend you in your case

They help to strategize a way to reduce the charges if you have been charged with reckless driving or you have had more than one DUI conviction

Invested in helping their clients to achieve the best outcome possible

Clear understanding of the legal process when representing DUI charges

Can represent you in both DMV administrative hearings and the courtroom

May be able to represent you in the courtroom without your presence

Weaken the prosecution's case against you with a solid defense strategy

Some DUI lawyers may offer payment plans
Disadvantages
Hiring a private criminal lawyer can come at an expense

Hiring a private criminal lawyer without the proper experience may lead to fruitless efforts
There can be a lot riding on the line when facing a DUI charge, whether it is your first, second, or third offense, the consequences can be significant. Providing yourself with a criminal lawyer who is experienced and savvy in this area of practice can ensure that your case is effectively and appropriately managed.
If you have received a Criminal Complaint or Traffic Summons, our criminal attorneys can help. Contact Rispoli & Borneo, P.C. today for a free initial consultation with a Long Branch, NJ criminal lawyer today. 
Criminal Lawyer Long Branch NJ
Mistakes You Don't Want to Make After Being Charged with a Crime
If you have been arrested or charged with a crime, there are mistakes you can make that will likely worsen your situation. The following are some of these mistakes. If you don't understand these mistakes, or have further questions, call a criminal lawyer Long Branch, NJ men and women turn to for advice, such as Rispoli & Borneo, P.C.
The More You Talk About Your Case, The Worse You Might Make Things
As a criminal lawyer in Long Branch, NJ, we know that this is one of the most common mistakes made by people who have been charged with a crime. Talking about your case is not recommended, and while it might sound simple in theory, achieving this is actually easier said than done. It is very important that you avoid discussing your case with anyone except your criminal defense lawyer, this includes other inmates, friends, or family members. There are many cases in which police have used cellmates to snitch on inmates as a means to get a better deal for themselves. 
Phones in jail are almost always recorded; thus, if you say anything over the phone, you can assume the prosecutor will know about it. Finally, mail is opened and read. Whether you are sending or receiving something, it will be reviewed first. 
If you are on bail, your loved ones may be concerned and ask you about what has happened. You may feel tempted to explain yourself or persuade them of your innocence. It is recommended that you avoid this temptation. All you need to say is that your criminal lawyer Long Branch, NJ trusts has advised you that you not talk about any specifics of the case. 
It must be understood that talking about your case includes using social media to post information about what happened. You might feel that you can talk about how you were treated unfairly, or that you are out on bail. Whatever it might be, you should not talk about anything. It is also recommended that you be careful about posting on social media altogether until your case is finalized. 
You Cannot Claim You Were Ignorant of the Law
Yes, there are many laws; however, you cannot claim that you didn't know about the law you allegedly broke. This is not a valid defense. It is presumed that anyone in a jurisdiction knows the laws. Even if it is true that you didn't know the laws, you cannot say this to escape the charges against you. If you need help understanding the laws, you can speak with a criminal lawyer in Long Branch New Jersey.
Speaking to the Judge on Your Own is Not Typically Permitted
You might feel inclined to speak with the judge or write him or her a letter about your case. In general, this is not allowed. In fact, it is forbidden to communicate with the judge about any pending case. Even if you send a letter to him or her, it will very likely be disregarded. Furthermore, should you blurt out facts about what happened or proclaim your innocence during a hearing, you may be found in contempt and could face added penalties. When it comes to communicating with the judge, or any other party for that matter, let your criminal defense lawyer Long Branch, NJ respects handle everything.
If you need a Long Branch, NJ criminal defense lawyer, consider speaking with Rispoli & Borneo, P.C., right away.