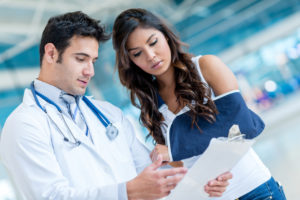 Work Related Injury Attorney New Jersey
If you or someone you know has experienced an injury on the job and were seriously hurt or obtained an illness, it may be in your best interest to contact the kind of seasoned work related injury attorney New Jersey residents trust. Meeting with a New Jersey work related injury attorney for a consultation during this complicated, confusing, and potentially stressful time can make a large difference in the overall outcome of your case, even if you have not initiated the process by filing a worker's compensation claim.
At Rispoli & Borneo, P.C., we understand that these types of cases can be unpredictable, and events such as an unforeseen delay, or even an immediate and blatant denial can multiply the stress levels of individuals who are already suffering from an injury they sustained on the job.
Having to handle the administrative parts of a workers compensation claim can be tedious, and if you were recently injured on the job, that should be the last thing you have to worry about. The type of experienced work related injury attorney New Jersey residents should look for can be found by calling Rispoli & Borneo, P.C. for your free consultation with a work related injury attorney NJ is proud of.
There are a variety of instances why an individual may find themselves with a work injury, however most, if not all, can have tragic effects on your well being and life, even leaving behind a permanent impact. Your suffering may prevent you from returning to work right away, or in some cases, may prevent you from completing your duties entirely.
If you hire a skilled work related injury attorney New Jersey has to offer, they can assist in recovering compensation through the state's system for workers compensation by identifying which type of damages apply to your case. The common types of compensation benefits through workers comp are as follows:
Lost wage replacement;

Disability;

Medical treatment costs; and

Death benefits (paid to your family in the event of a fatality).
Even if you have already spoken with your employer and informed them you are filing a claim for workers compensation, it is still a good idea to get in touch with a work related injury attorney New Jersey trusts to advocate for you through this difficult time. This will give you the ability to sit with ease, and focus on your recovery. No matter the scenario you are facing, our lawyers are here to help you and create a customized, unique strategy for your case as we understand that each claim is individual and requires its own level of attention.
Your New Jersey work related injury lawyer can assist you by navigating the workers compensation system and relieving the stress behind filing a claim. As stated previously, regardless of the type of injury you have faced, there is a good chance you may be eligible to recoup damages and receive compensation. Contact Rispoli & Borneo, P.C. at (908) 353-0800 for your free consultation today and speak with our work related injury attorney New Jersey is proud to have fighting for its community.

What are Some Common Misconceptions Regarding Workers' Compensation?
Our work related injury attorneys based in New Jersey share with you that workers' compensation has been established to provide benefits to people who are injured on the job. If this has happened to you, you may have a number of questions, such as:
Do I qualify for workers' compensation?

What do I need to prove?

Is there a deadline?

Should I talk with a workers' compensation lawyer?
In general, if you are an employee of a company, you will be able to recover workers' compensation. Proving you were injured on the job or suffered a work related illness will involve you reporting the incident as soon as possible. In general, even if you are to blame for what happened, you may still recover workers' compensation. Our work related injury attorney in New Jersey will tell you that because of strict deadlines, it's important that you get started immediately. If your on the job injury is complicated, or involves serious injuries, speaking with a New Jersey work related injury attorney is recommended. 
As simple as the aforementioned might sound to you, receiving benefits may not be as cut and dry as it initially seems. Consider the following misconceptions, and if you have any further questions, call our work related injury attorney representing New Jersey at Rispoli & Borneo, P.C:
Misconception 1 – Many people believe a pre-existing injury won't be covered. 
If you have aggravated or worsened a pre-existing injury or illness while working, and you are unable to work because of what happened, the injury may be considered work-related. Workers' compensation may be recoverable; however, it is advisable to ask a New Jersey work related injury attorney to help you.
Misconception 2 – You will receive your full salary.
In most states, workers' compensation benefits pay up to two thirds of a person's weekly wage or salary. Usually, you will have to miss at least three days of work before you can apply for the benefits. 
Misconception 3 – Filing a claim is only possible when you're injured on the job site
. 
Generally speaking, work related injuries are covered by workers' compensation. Our work related injury attorney based in New Jersey wants you to know that if you were driving to a work-related appointment, visiting clients off-site, attending a work-related seminar or meeting, or participating in a work-related activity, you may qualify for benefits. 
Misconception 4 – You cannot recover workers' compensation for conditions like blindness, mesothelioma, loss of hearing, or cancer because they cannot be proven to be linked to your job.
Certain medical conditions, including, but not limited to, lung disease, asthma, and hearing loss have been linked to certain professions. If you work in these occupations, and suffer from a long term disability or disease, workers' compensation may be available. The right New Jersey work related injury attorney may be able to prove the injury/illness was caused by your occupation.

Misconception 5 – You cannot recover benefits if you were at fault. 
In general, if you were working while injured, you can recover workers' compensation. The exceptions may be:
You purposely injured yourself or another person. 

You were under the influence of alcohol or drugs. 
If you have been injured on the job, benefits through workers' compensation may help you to cover your financial losses, and pay for your medical bills. If another party, other than an employee or your employer, caused you harm, a separate personal injury claim might be pursuable. Call our New Jersey work related injury attorney at Rispoli & Borneo, P.C. to learn more.

Work Related Injury Infographic
When Should You Contact a Workers' Compensation Attorney
Your Employer Is Delaying Your Claim Process
Workers' compensation claims have very strict guidelines. They have to be submitted within a specific period of time, and if they are not reported within this timeframe, you lose your right to make a claim and receive compensation. You need to immediately receive the claims paperwork you need to file. Your employer should also walk you through the reporting process, discussing regulations and deadlines with you.
If you have not received your claims paperwork within a few days of the injury or your employer has not met with you to discuss the process, you should seek legal counsel. Any reputable law firm, e.g., Rispoli & Borneo, P.C., will tell you that if your employer is delaying your claim for any reason, you need to hire an attorney.
You Receive a Claim Denial
Your claim can be denied for a number of reasons. For example, your employer may deny the validity of your claim. For example, if you do not report a small injury, and additional work exacerbates it into a major injury, your employer may deny your claim. In addition, if you receive an injury as a result of repetitive work over a long period of time, you may receive a denial.
As for-profit institutions, insurance companies will often deny your initial claim for no reason at all. Unfortunately, many individuals won't pursue an appeal, and the insurance company never has to pay on these claims. If you don't find an attorney and appeal the denial, you may end up paying your own medical bills and won't receive compensation for any lost wages. By hiring a work-related injury attorney in New Jersey, you show the insurance company that you are willing to fight for what you need and deserve.
The Insurance Company Won't Pay for Your Treatment
The workers' compensation insurance company may pay your initial medical bills, but they are not fond of paying for specialized services because they can be expensive, especially when multiple sessions are necessary. For example, your primary care doctor may suggest that you need physical therapy, rehabilitation, surgery or other care. Therefore, if it stops paying or you need more specialized care that it won't pay for, you should find a work-related injury attorney in New Jersey.
You need To File for Social Security Disability
If you are partially, temporarily or fully disabled by your injury, you may be eligible for Social Security Disability benefits. In these cases, you may eventually be able to return to your original job, you may work in a different job that accommodates your injury or disability or you may not be able to work at all. If you experience any of these situations, you should contact a workers' compensation law firm, e.g., Rispoli & Borneo, P.C.

Frequently Asked Questions About Worker's Compensation
What Happens If My Employer Refuses To File My Claim?
Your employer is legally responsible for notifying the state workers' compensation board whenever an employee reports an injury. If your employer refuses to inform the board of a work related injury attorney in New Jersey may be able to help. A lawyer may be able to notify the board directly or put pressure on your employer to do their part. 
What Should I Do If Workers' Compensation Denies My Claim?
Insurance companies may deny workers' compensation claims for a variety of reasons. Sometimes the insurance company may not believe the injury occurred while performing work related duties, or you may have seen a doctor after the deadline.  If your claim gets denied, a work related injury attorney in New Jersey can review your case.  A lawyer may determine you should appeal your case, and they can represent you during that process. Since there are strict deadlines for appeals, reach out to an attorney from Rispoli & Borneo, P.C.as soon as your receive a denial letter. 
Should I Accept A Settlement From Workers' Compensation?
Once the insurance company finalizes your claim, they may offer you a settlement. It's wise to reach out to a work related injury attorney in New Jersey when you receive an offer to settle your case. A lawyer can review the proposal and ensure your rights are protected. When you accept an offer, it's challenging to change a settlement, so the insurance company must offer you everything you're entitled to. If you or your attorney are unsatisfied with the offer, you can refuse it. Your attorney may be able to work directly with the company to adjust the offer or file a claim against them if you can't reach an agreement. 
Will I Lose My Job If I Can't Work Full Time?
While your boss can't fire you for filing a workers' compensation claim, there are occasions where your employer can terminate your employment after an injury. If you decide not to return to work after your doctor declares that you're able to, your employer can fire you, and you may lose your workers' compensation benefits. Additionally, suppose you are injured and are only able to return to work in a limited capacity. In that case, your employer may not have work available for you and decide to terminate your employment. In this situation, you may be eligible for unemployment benefits. An attorney from Rispoli & Borneo, P.C.may be able to advise you on your rights if you find yourself in this situation. 

How Does a Work Related Injury Attorney in New Jersey Help?
A common misconception is that filing a claim for workers' comp is easy. In reality, there are often many obstacles to overcome. You need to be successful to get the compensation you deserve. A work related injury attorney in New Jersey can help you with your case in several important ways.
Negotiate a Settlement On Your Behalf
Insurance companies may attempt many tricks to limit the amount they have to pay you. They often offer extremely low settlements and tell workers "take it or leave it," as if you don't have a choice. The truth is that you always have a choice, and accepting the first settlement offer is rarely the right one.
Insurance companies are forced to act differently when you have a work related injury attorney in New Jersey assisting you. At Rispoli & Borneo, P.C., we know workers' comp law inside and out. We can negotiate a fair settlement that covers your needs, including costs for medical treatment, recovery and lost wages.
Represent You in Legal Hearings
Often, your work related injury attorney in New Jersey can help you reach a favorable settlement with the insurance company in a short time. That's not always the case, however. If the insurer refuses to budge, the next step is to have a trial before a workers' compensation judge.
During this hearing, your lawyer can present evidence, examine witnesses, raise objections and argue your case skillfully. Fighting for your interests can help you get the full compensation you deserve. This is especially important where cases of temporary or permanent disability are involved.
Assist With Rejected Claims
It's sad to say, but many insurance companies reject valid workers' comp claims simply to avoid paying. At Rispoli & Borneo, P.C., we've seen this happen time and again to workers in New Jersey. You don't have to accept a refusal, however. You just need an experienced attorney to guide you through the right steps to appeal.
Help You Gather Proof of the Accident and Injuries
A work related injury attorney in New Jersey can help you build a solid case by gathering needed evidence:
Letting you know which doctors to visit

Getting an independent medical exam

Obtaining medical records

Interviewing medical experts

Gathering evidence from your workplace
The stronger your case, the better your chances of getting significant compensation for your injuries and recovery. Your attorney can also let you know if there are other avenues for claims, such as third-party lawsuits for defective products.