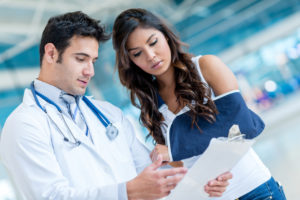 If you or someone you know has experienced an injury on the job and were seriously hurt or obtained an illness, it may be in your best interest to contact the kind of seasoned work related injury attorney New Jersey residents trust. Meeting with a New Jersey work related injury attorney for a consultation during this complicated, confusing, and potentially stressful time can make a large difference in the overall outcome of your case, even if you have not initiated the process by filing a worker's compensation claim.
At Rispoli & Borneo, P.C., we understand that these types of cases can be unpredictable, and events such as an unforeseen delay, or even an immediate and blatant denial can multiply the stress levels from individuals who are already suffering from an injury they sustained on the job.
Having to handle the administrative parts of a workers compensation claim can be tedious, and if you were recently injured on the job, that should be the last thing you have to worry about. The type of experienced work related injury attorney New Jersey residents should look for can be found by calling Rispoli & Borneo, P.C. for your free consultation with a work related injury attorney NJ is proud of.
There are a variety of instances why an individual may find themselves with a work injury, however most, if not all, can have tragic effects on your well being and life, and have the ability to potentially alter your life permanently. Your suffering may prevent you from returning to work right away, or in some cases, may prevent you from completing your duties entirely.
If you hire a skilled work related injury attorney New Jersey has to offer, they can assist in recovering compensation through the state's system for workers compensation y identifying which type of damages apply to your case. The common types of compensation benefits through workers comp are as follows:
Lost wage replacement;
Disability;
Medical treatment costs; and
Death benefits (paid to your family in the event of a fatality).
Even if you have already spoken with your employer and informed them you are filing a claim for workers compensation, it is still a good idea to get in touch with a work related injury attorney New Jersey trusts to advocate for you through this difficult time, while giving you ease in your mind to focus mainly on your recovery. No matter the scenario you are facing, our lawyers are here to help you and create a customized, unique strategy for your case as we understand that each claim is individual and requires its own level of attention.
Your work related injury lawyer can assist you with the navigation of the workers compensation system and relieving the stress behind filing a claim. As stated previously, regardless of the type of injury you have faced, there is a good chance you may be eligible to recoup damages and receive compensation. Contact Rispoli & Borneo, P.C. at (908) 353-0800 for your free consultation today and to speak with a work related injury attorney New Jersey is proud to have fighting for its community.