Northern New Jersey Workers Compensation Lawyer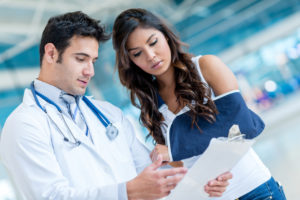 Unfortunately, a lot of workers in the United States are living from one paycheck to the next. For these individuals, suffering an injury could place them in a financial situation that is downright unmanageable. Thankfully, there is a system in the United States meant to protect workers from exactly these circumstances. This system is called workers' compensation. 
Workers' comp is essentially a program which pays employees for certain expenses related to suffering a work-related injury. To receive benefits after being injured, you'll need to report your injury to your employer. Your employer is generally required by law to submit a workers' comp claim once received. If your claim is approved, workers' comp will pay for eligible expenses that result from your accident. Know that while this system seems straightforward at first glance, there are exceptions, loopholes and red tape involved in this process that could affect your claim. As a result, it is generally important to speak with a Northern New Jersey workers' compensation lawyer before filing a claim. If you're concerned about potential retaliation, you can even speak with the team at Rispoli & Borneo P.C. before reporting your injury to your employer; but as claim submission is a time-sensitive issue, don't wait to seek guidance. Act quickly or your options could become more limited. 
What Does Workers' Comp Cover?
At this point, you may be wondering if workers' comp truly does cover all expenses resulting from your injury. The goal of workers' comp is to return you to the financial situation you were in prior to the injury. This means all of these expenses are covered, as long as they were the direct result of the injury:
Hospital bills

Missed or reduced paychecks

Loss of future earning ability

Purchase of medicine or medical equipment
Generally, only expenses that are recommended by a physician are covered by workers' comp. However, if it is reasonable for an expense to be necessary, it will usually be covered with or without a doctor's note. If you have questions about what expenses may or may not be covered by your benefits, avoid making assumptions. Contact an experienced Northern New Jersey workers' compensation lawyer for guidance so that you can make informed decisions before bills begin piling up. 
Who Qualifies for Workers' Comp?
There are two main requirements that an injury must meet in order to qualify for workers' comp. First, the injury must be related to work activity. You must generally have either been working at the time of the injury, or injured by the actions of a co-worker who was working. Workers' compensation is no-fault, so don't hesitate to connect with a Northern New Jersey workers' compensation lawyer, even if your actions caused the accident that led to your injury. 
Secondly, you must be an employee. There are several different types of workers in the U.S., but only employees are generally covered by workers' comp. Most jobs classify the workers as employees, but this is not always the case. If a portion of your paycheck is withheld for tax reasons, you are an employee. Otherwise, you are likely an independent contractor or some other type of worker. If you are worried about receiving your workers' comp for any reason, speak with a Northern New Jersey workers' compensation lawyer because it's possible that you qualify for coverage and simply may not be aware that your situation is unique.